Hours/Closed
10:00 a.m. to 5:00 p.m.
*last admission: 4:30 p.m.
Mondays (or next regular weekday if Monday falls on a public holiday),
year-end and New Year holidays, and temporary closure days
Saturday, July 15 to Sunday, December 3, 2023
Admission
Adult : It is different for each exhibition.
Please check the exhibition page.
University or high school student:500 yen
Admission is free for junior high school students and younger children.
Admission is 300 yen upon presentation of a Disabled Person's Booklet (Shogaisha Techo).
Group discounts are available for groups of more than twenty visitors.
General Admission Price
Group Admission Price
Adult
It is different for each exhibition.
Please check the exhibition page.
University or
High School Student
500 yen
400 yen
Please make a reservation in advance if you are planning to visit the Museum as a group or tour. Please download the Group Application Form, fill out the information, and send the form by fax. We will reconfirm your reservation by fax. Please pay admission fee on the day of your visit by cash or JTB coupons. Fax: 075-957-3126
Access
Asahi Group Oyamazaki Villa Museum of Art
5-3 Zenihara, Oyamazaki-cho, Otokuni-gun, Kyoto 618-0071 Japan
Tel: 075-957-3123 (Japanese guidance only)
Fax: 075-957-3126
Approx. 10 minutes' walk from Yamazaki Station (JR Kyoto Line) or Oyamazaki Station (Hankyu Kyoto Line)
Floor/Garden Guide
Asahi Group Oyamazaki Villa Museum of Art is located at the southern foot of Mt. Tennozan in Oyamazaki Town, Kyoto Prefecture. Placed in an approximately 4,050-acre (16,529m2) garden, the Museum consists of the main building, a British-style mountain villa, and two annexes—the Underground Jewelry Box and the Dream Box—both designed by Tadao Ando, in addition to other buildings.
Visitor Guidelines
Prohibited
Items

For safety and security reasons, visitors are requested not to bring inside the Museum any backpacks (or any item carried on the back, regardless of size), umbrellas, tripods, knives or any sharp tools, or items larger than 40 x 40cm.
Please leave such items in the baggage lockers (free of charge) located in the rest house.
Writing
Materials

The use of pens and mechanical pencils is not allowed inside the Museum. Please use pencils only.


*Different rules may apply for special exhibitions.
Photography

Photography is not allowed inside the Museum.
Handling

Please do not touch the exhibits.
Food and
Beverages

Eating and drinking is not allowed inside the Museum.
Baby Strollers /
Buggies

Baby strollers and buggies are not allowed inside the Museum.
Drawing and Sketching in the Garden
Please contact the Museum in advance if you wish to sketch in the garden. The Museum issues permits with some exceptions in busy seasons, such as the cherry blossom season in early spring, consecutive holidays in early May, and the autumn leaves season.
Upcoming Periods with No Sketching Permitted
2022/4/29-5/8 2022/11/1-12/4
Accessibility
We ask visitors in wheelchairs to fax in advance, and will reconfirm your reservation. Special parking for disabled visitors people is available, located across from the free shuttle bus stop (by the tunnel). From the parking to the museum reception, there is a 300-meter uphill slope. Please place the parking permit on your car's windshield. Alternately, permits issued by government bodies are also valid.
Fax: 075-957-3126
*Please visit the access information page for a map of shuttle bus stops.
*The number of parking spaces available is limited.
Café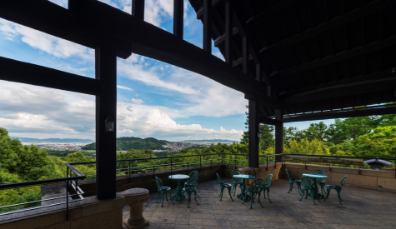 Oyamazaki Villa is located on the south side of Mt. Tennozan, overlooking the rivers Kizugawa, Ujigawa, and Katsuragawa. Enjoy a magnificent view of the rich nature of the garden from the second-floor terrace.
Museum Shop
Located on the first floor of the main building, the shop's sells original merchandise related to the museum collection, including the works of Claude Monet, as well as books about the Museum.