History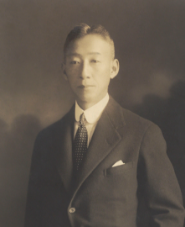 Shotaro Kaga
Asahi Group Oyamazaki Villa Museum of Art is located at the southern foot of Mt. Tennozan in Oyamazaki Town, Kyoto Prefecture. Placed in an approximately 4,050-acre (16,529m2) garden, the Museum consists of the main building, a British-style mountain villa, and two annexes--the Underground Jewelry Box and the Dream Box--both designed by Tadao Ando, in addition to other buildings.
Oyamazaki-sanso (Oyamazaki Villa) is the Museum's main building, originally built during the Taisho and Showa eras as a country villa for Shotaro Kaga (1888-1954), a wealthy businessman from the Kansai region.
Shotaro Kaga, a businessman in a variety of business fields, including securities business, also left behind a legacy as a man of exquisite tastes who cultivated orchids and published a series of botanical woodblock of orchids, "Rankafu." He helped to found Nikka Whisky Distilling and in his later years gave his Nikka shares to Tamesaburo Yamamoto, his close friend and the first president of Asahi Breweries. This relationship has been inherited by the Museum today.
The thread of time spun by these two people, who had introduced new beer and whisky culture to Japan, eventually became one at Oyamazaki where the three rivers Katsuragawa, Ujigawa, and Kizugawa merge. After Shotaro Kaga died in 1953 and following his wife's death, Oyamazaki Villa was relinquished by the Kaga family in 1967.
After being resold several times, a plan emerged in 1989 to demolish the villa to make way for a luxurious apartment, due to the deteriorating condition of the building. However, local people led a campaign to preserve it and Asahi Breweries upon request from the Kyoto Prefecture and local Oyamazaki governments, decided to restore and reopen it as a museum.
Asahi Group Oyamazaki Villa Museum of Art opened its doors in 1996 with valuable architecture from the modern era built on land abundant in history, a site hosting both the heritage of pioneering artistic movements of the time and new contemporary architecture designed by the internationally renowned architect, Tadao Ando. In 2004, six buildings at Oyamazaki Villa--Seikei-ro (the current main building), Saigetsu-an (tea house), Tochinoki-chaya (tea house), Seika-rou (watchtower), former garage (the current rest house), and Roukan-do (the entrance tunnel to the garden grounds)--were designated Registered Tangible Cultural Properties. In 2005, nine years after the opening of the Museum, total visitor numbers reached one million. The Museum has proved widely popular as a place to appreciate a unique art collection, architecture, and rich natural scenery.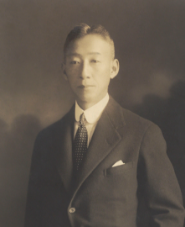 Shotaro Kaga