Asahi Beer Oyamazaki Villa Museum of Art will be renamed "Asahi Group Oyamazaki Villa Museum of Art" on July 1, 2023. This exhibition, the first to be held at the museum under the new name, will commemorate the museum's receipt of 105 works of Shizuho Funaki donated by Mr. Shoichiro Morita (Representative Director of Morita Shuzo Co., Ltd.) in February 2021.
Shizuho Funaki (1935–2013) was born to a family of Fujina ware potters living in Matsue City, Shimane Prefecture. While studying at Shimane University, he developed his aspiration to become a glass artist. After graduating, he worked at Shimizu Glass Factory in Osaka and then at Kagami Crystal Studio in Tokyo. During his days of working in Tokyo, he established a kiln jointly with Makoto Ito, one of his colleagues at the studio, with the aim of engaging in free creative activities. He later worked in Kitakyushu, and in 1987, he founded a studio named "Glashütte" in Hiroshima, where he focused his energy on creating his own original works.
He devoted his life to creating various handmade vessels for use in daily life, such as vases, plates, glasses, and bowls, including rice bowls, assuming sole responsibility for the entire production process, from design to finish. The vessels he created are all characterized by both a soft warmth and robustness suitable for their use, despite being made of glass. Held in the year of the 10th memorial anniversary of Shizuho Funaki, this exhibition will feature a variety of his works, which still have lasting appeal for us today.
Date

Saturday, July 15 to Sunday, December 3, 2023
10:00 a.m. to 5:00 p.m.
(Last entry 4:30 pm.)

Closed

Mondays (Open on Mondays that are also national holidays [July 17, September 18, and October 9] and on November 20 and 27);
Tuesdays after national holidays

Organizers

Asahi Group Oyamazaki Villa Museum of Art and The Kyoto Shimbun Co., Ltd.

Admission

Adults:  1,100 yen (group admission: 1,000 yen)
Senior high school or university students:  500 yen (group admission: 400 yen)
Junior high school students or younger:  Free
Visitors with a disability certificate:  300 yen

Supporting Groups

Kyoto Prefecture,
Oyamazaki Town,
Oyamazaki Town Board of Education,
NHK Kyoto Broadcasting Station, and FM-Kyoto Inc.
Main Exhibits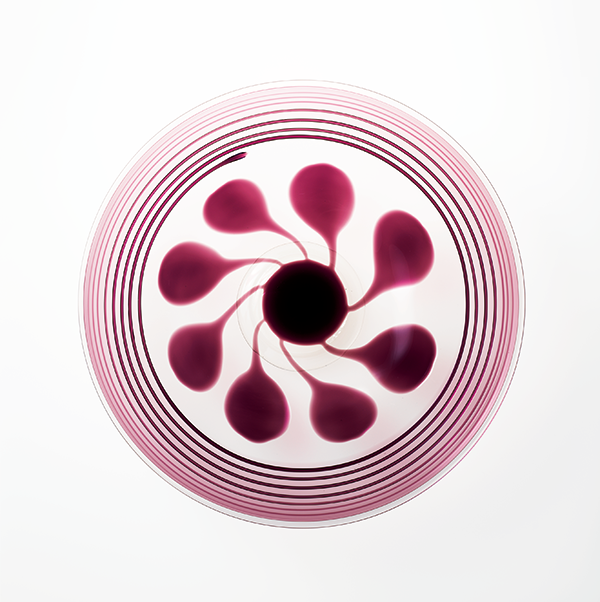 Large Plate with a Leaf Pattern
(1988–2012)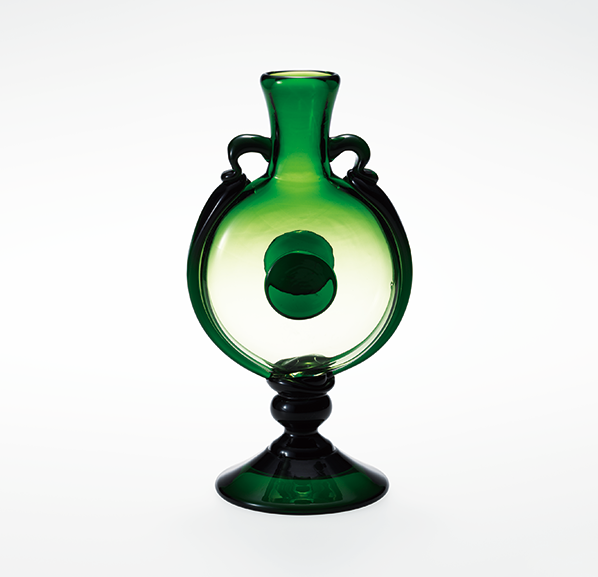 Small Double-handled Vase with a Circle Pattern
(1988–2012)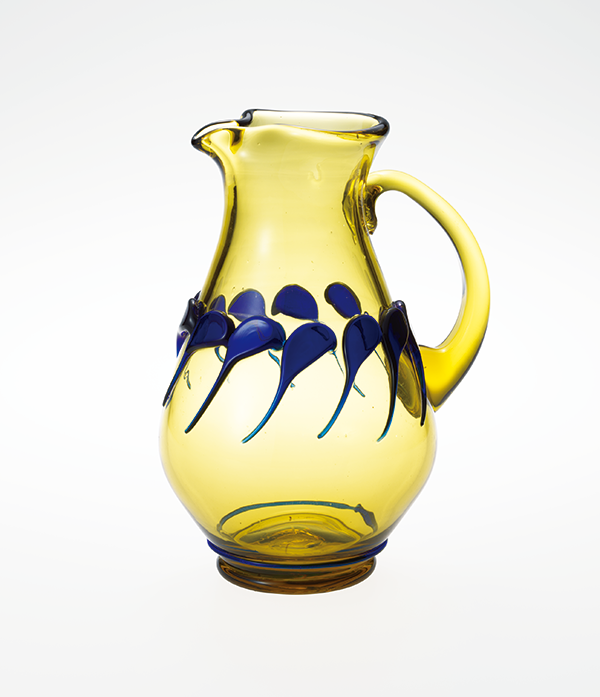 Pitcher with a Leaf Pattern
(1994)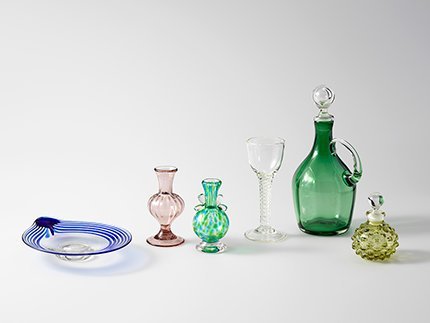 From left: Handled Dish with Multiple Borders (1988–2012); Molded Mini-vase (1977–87); Double-handled Mini-vase (1988–2012); Air-twisted Wine Glass (1977–87); Handled Decanter (1977–87); Stoppered Bottle with a Projected Checkered Pattern (1988–2012)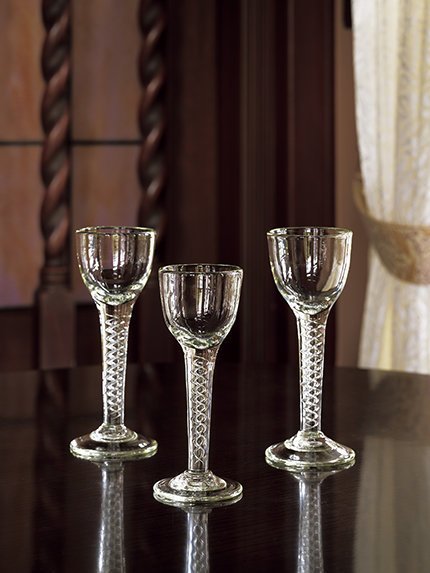 Air-twisted Wine Glasses
(1977–87)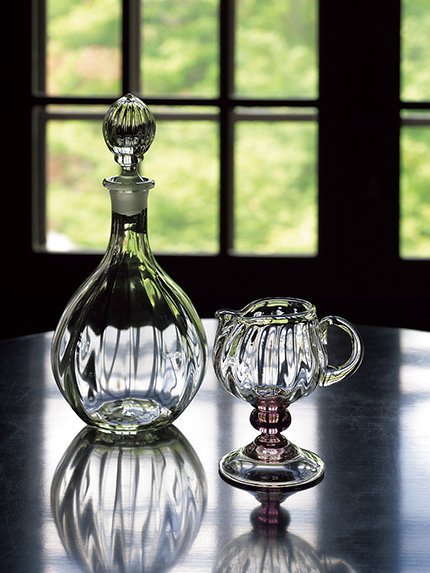 Left: Molded Decanter (1988–2012); Right: Molded Pitcher (1977–87)
Café Event
Special Café Menu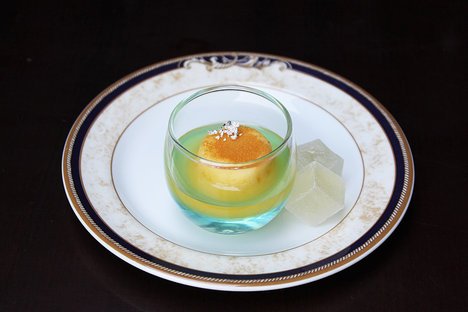 Clear Blue
transparent glass works created by Funaki.
Savarin-style cake soaked with plenty of orange syrup floats in a blue curaçao jelly.
Enjoy the difference in texture between the cake and pieces of lemon-flavored hard jelly on top.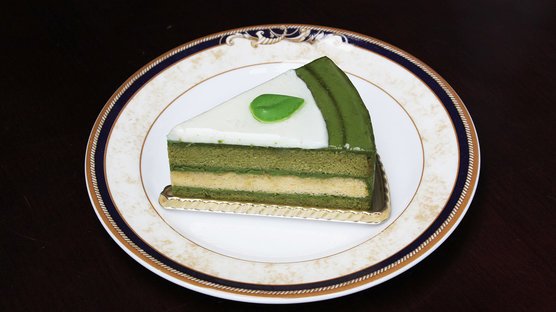 Leafy Green
Leaves are a favorite motif of Funaki's works. Of the works displayed in this exhibition, four have a leaf pattern.
Among them, Bowl with a Leaf Pattern has provided the inspiration for a cake nicely combining matcha green tea with white chocolate.
The soft mouthfeel of the cake with the rich aroma of Uji Matcha from Wazuka Town, Kyoto will remind you of the transparent but warm work by Funaki.
Dates available

During the exhibition period

Cooperation

Rihga Royal Hotel Kyoto

Price

Single sweet dish: 700 yen
Sweet dish and beverage set (coffee, tea, or wine): 1,200 yen
* Tax included. The museum admission fee is charged separately.